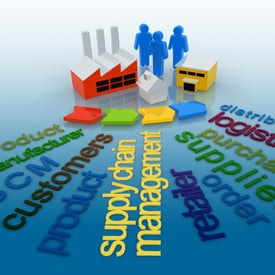 The world has become a smaller place, and supply chains have become longer. Managing your supply chain effectively gives you a competitive advantage (ask Walmart and Apple) and there are many ways that ERP software can help a business manage the entire breadth of its supply chain.
Let's start at the "demand" end of the supply chain. In Part 2 of this blog, we'll look at the "supply" side.
Forecasting automatically generates forecasts based on past sales history. It uses sophisticated mathematical algorithms catering for trends and seasonality, and can even automatically ignore unusually large "one-off" spikes in demand. It also lets you identify your most important products using a built-in Pareto analysis (80/20 rule); you can use this to decide which forecasts you want to (optionally) review and override. You can also easily identify difficult to forecast items by reviewing the accuracy of past forecasts.
Families and Groupings is a sibling module to Forecasting. Some products are easier to forecast in families (e.g. all types of bottled apple juice vs. individual bottle sizes). Based on past history, the system calculates forecasts at family level, which you can optionally override. These family level forecasts are then automatically broken down to individual SKU (Stock Keeping Unit) level.
Inventory Optimization might give more "bang for the buck" than any other module by reducing inventory levels. It suggests optimal inventory levels to ensure that you have the right inventory in the right place at the right time. It does this by using sophisticated calculations that consider many variables such as forecasts, service levels you set, etc. For example, you could specify that you want a 98% service level on "A" items, and 70% on "C" items, and the system will calculate optimal inventory levels for each SKU, location, and time period.
Sales Orders lets you fulfil orders efficiently. The system automatically picks up pricing by SKU and/or customer and enforces profit margins. If you're out of stock you can automatically create a purchase order, work order, or transfer from another location. For orders with multiple shipments, Dispatch Notes reduces paperwork and steps by letting you ship the inventory in stages but invoice just once. Load Planning automatically figures out which trucks and routes a sales order should be loaded on, including allowance for mass and volume constraints.
Point of Sale handles customer-facing, over the counter transactions at your retail stores. Its touch-screen and web-based interface is fast and easy to use, and it can even operate offline if the connection to head office goes down.
Goods in Transit lets you transfer and track shipments between your locations. When used with MRP (Material Requirements Planning) it can even suggest Supply Chain Transfers to replenish stock in one location from another.
Hopefully customers don't return too many of your products, but if it happens, the Return Merchandise Authorization (RMA) module helps you efficiently handle returns, including automated creation of credit notes, repair jobs, and replacement sales orders. In many companies the return process is an afterthought, a costly black hole, but the RMA system gives you visibility; you can track, view and report on the details of open returns and past returns.
Contact Management lets you improve customer service by keeping track of notes and activities against people and companies. It works not only with customers but any organization such as prospects, suppliers, competitors, etc. It integrates to Outlook so you can send/receive e-mails and schedule meetings. Even your employees not running SYSPRO can access detailed Contact Management data right inside Word and Excel using a free plug-in for Microsoft Office.
Now that we've looked at better ways to manage the "demand" side of the supply chain, in Part 2 we'll look at the "supply" side.